FREE Drawing Workshops (The Drawing Sanctuary)Saturdays from 11:30-1  held on the beautiful balcony of the KB Cafe in Vergennes, VT.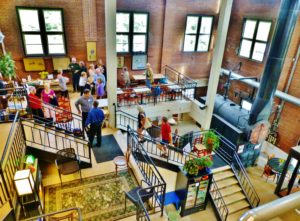 Fearless Sketching:
How to Court your Muse in Ten Minutes a Day
Spend time sketching and networking with other art lovers in a relaxed setting.

The exercises are loosely drawn (pun intended) from my little sketchbook at the Brooklyn Art Library.
  I'll provide all Materials for this lesson,
We will learn to make a pocket sketchbook  (click the link to see a video showing how to do it) from a single sheet of paper and then we will fill it!  

Intention: that you have fun in a no pressure situation and become inspired to integrate the pleasure of drawing into your routine of living. And, yes, if you are also a painter, it does help your painting.