Weekly Art Lesson:
Hello and Welcome!   We have just (8/9/16) completed an interlude of 6 free art lessons  on the beautiful balcony of the KB Cafe in Vergennes, VT.
Now the site will return to what it was before my husband and I bought Kennedy Brothers and it lapsed for a few years.
The Weekly Art Lesson can become your Creative Oasis – a place  for you to refresh your spirit and practice the art of drawing and painting without fear.  Browse the archives for back lessons.

The artist's journey is quite a ride…. sometimes it's wild and rough – other times it's serene and blissful; but all the time it is easier to grow our art if we have a motivating and supportive environment.
Everything from basic techniques to overcoming creative blocks will be covered, but the primary goal of this site will always be the development of your authentic self-expression as an artist.
Lessons are designed to work on any level.
Join in at any time – the lessons aren't sequential.
Lillian Kennedy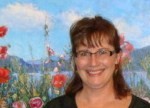 I'm Lillian, the host of this Creative Oasis.  It is my intention to gather a community where everyone will be welcomed, supported, and motivated on their own creative journey.
Lillian has a Master's in Painting from Parson's School of Design in NYC. Her teaching has ranged from "Advanced light, color, and design" at Pratt Institute of Design in NYC to Elderhostel. She has worked with people all levels of ability and experience for decades. Her teaching philosophy is that everyone can learn the basics with encouragement and instruction. She is known for bringing out the uniqueness in each individual.
Lillian's landscape paintings are in private and corporate collections all over the world. Her mural work can be seen in places such as the Tavern on the Green, the Bronx Zoo, and the old Sunset Park Courthouse in NYC.