Well, that was fun!

July 9 – 11:30 to 1 pm.  Always free.  All adults welcome:  This week we'll do a different fold to get a bigger surface and then we'll get some  instruction on human proportions so that we can slip little figures into our drawings.  You'll get all kinds of tips on animating drawings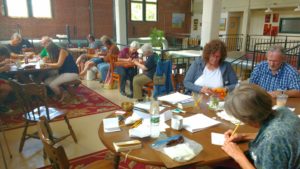 with people.
Stick figures are cool, but even Mr. Stick can  take on life if he has a bit of movement and good proportions.  Let's get our sticks dancing.
After that, we'll move on to  composition.
I'll keep the energy flowing by watching closely and changing things up whenever our energy sags.    See you soon.
Last weeks report: We folded our pocket sketchbooks and got right to work filling them. Everyone filled 10 pages and practiced everything from drawing their favorite childhood pet to sketching the live moving model.
Mike Kennedy has already delivered a stack of drawing boards so that even more people can comfortably work on the balcony.  Come early  to snag the best seats.
Friendships were started.  Skills were built.  This will continue to just get better and better.  Many people stayed after and had lunch with the others in the group.
I have all kinds of ideas to enhance our group – Next week I'll get a big board so that we can pin up our drawings and share what we've  drawn during the week as well as what we are working on during the lesson.  I'm going to get more art books to leave out in the cafe all week.  You'll be able to come in any time and study them.
Out of towners:  You can set the same time period aside and imagine you are here. Get a group together.  Streaming has been suggested.  Send me photos of your work and I can post it.  This could be YOU Ilene, Libby, or Margaret!  It could be your shtik to send me your Sticks. figure drawing proportion video  shows some info on proportion – or go to youtube and look around  – SO many videos are available.