Welcome to our Drawing Workshop!  All adults and all levels of experience are welcome!
We will begin with a painting demonstration showing how to insert figures into a landscape painting.  Figures can be used to animate a painting and tell a story or just to add a touch of color.  You can  play with them until they add the right feel.
Following the demo, we will draw a landscape based on a choice of photo references and then we will add invented figures to it.  We will have the opportunity to add watercolor.
As usual, you can stay after and keep working or socialize over lunch.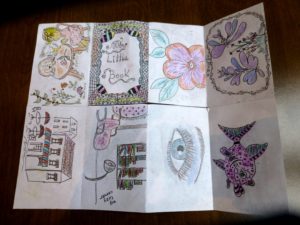 last week:
Here is a photo of the Rena's finished "homework" which was to fill another pocket sketchbook. She did all 16 little pages.
Human proportions  can be generalized to make generic figures.  We practiced doing this – you can look on google and find numerous videos that show how.  figure drawing proportion video  
Then the figure can be moved and you can start to learn to visualize various poses.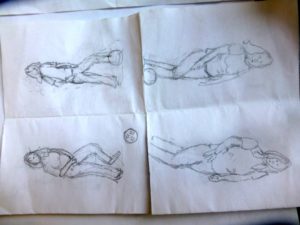 We practiced drawing a live model and posing ourselves to feel the pose from within.  We covered gesture.  The final project was creating a little landscape and adding three figures to it.  The results were amazing.