It's so easy to take good photos of your paintings.  We snap away with digital cameras and edit on our computers.  We know immediately if we "got it" or not.
It used to be that artist's took slides and bracketed to help insure proper exposure.  We were always reluctant to bracket because of limited budgets.  Then we used silver tape and framed out each slide by hand because it was rare that a piece was the same proportion as the slide frame. And when you sent those slides to someone, they were gone – often forever.  It used to be tedious, but now it is almost effortless to photograph paintings in progress, and the benefits can be far reaching…

1. If your painting comes out well, you can use the photos of the stages to create a lecture, demo, or article.
2. If your work seems to have "gone downhill", you can refer to a photo of an earlier state, figure out what it was that gave it that special something,  and get ideas about how to recreate that quality.  Often when you try that special something again, you can come back to it at a higher level than before.  If you are about to make a risky move on your piece, take a photo first.  This has proven an invaluable tip to many of my students.
3.  Re-visiting the stages can be fascinating and informative, especially if your process has lots of surprise twists or reductions.  In the 1930s Matisse hired a photographer to document his progress on certain paintings and these photos  have been educating and delighting viewers ever since.  If you get a chance, see the  show at the Metropolitan Museum in NYC .  "Matisse embraced the opportunity to put his process on display and in so doing, dispelled the notion that he worked spontaneously."
If you can't get to New York, you can study benefit #3 by looking at the stages below by Margaret Bobb, a regular at the Oasis .  She started with a plein air painting in my garden last spring and then let it change as her inner voice encouraged.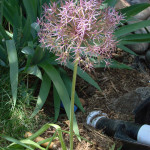 Margaret is currently showing this and other pieces in the "Ballet des Fleurs" series at  Answers to Health  (720) 340-4435
As always, click on any photo to enlarge it.
To see the rest, click on this tab