Reference photos popped up on cell phones and appeared as magazine photos and personal snapshots. These pieces were done in about forty five minutes and remained fresh and fun on account of the relaxed atmosphere.
The exercise was to imagine figures into a landscape.  We spend time each week exercising our imagination as well as our drawing skills.
The drawings do have more life in them than the photos, don't you think? It's not just that they have figures, it's the flow of the mark making that brings them to life.
We had 16 paarticiapants in the live class in Vergennes .
Some participate in their own way from afar.  Here is a piece done  by Ann Hayes in Boulder, CO. It is based on a scene (without figures) that she painted in Redstone Colorado last week.  The graphite stick simplifies the drawing of the rock forms.
As soon as I offered the little watercolor kits and some white gouache, color took over.  I had expected slightly tinted drawings, but the results were more like mini paintings.  More on the method.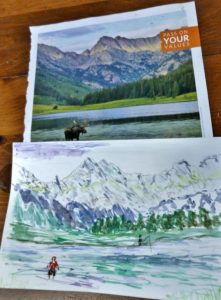 Eleanor Koaler's drawing with two figures imagined into the piece.
Heather drove up from Benson with her son Eli.  She took an image of a painting and dropped a mysterious figure into it.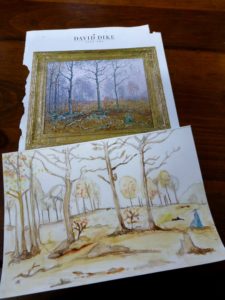 Way to go group!  I am so impressed.
homework: make your own name tag!