Red and Green are THE Color Couple of the season, but have you heard the gossip? They can neutralize each other in a heartbeat; that's their little secret!  You see them snuggled up together everywhere this time of year,  and side by side each makes the other look brighter.  Mix them together, however, and  they wipe each other out.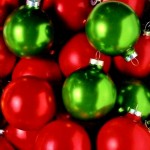 Try these two exercises:
1.  Seeing the complementary ghost (the law of simultaneous contrast in color):
Take a snippet of something bright red or green  and place it in the middle of a sheet of white paper.
Stare at it with soft eyes for at least a minute.
Remove the snippet and keep staring at the middle of the white paper.
You should see a radiant ghost of the complement.
Have wild thoughts about the nature of Ying/Yang and how things are in the heart of their opposites.
2. Mixing complements
Mix a bit of red with a bit of green.
Add white to lighten the mix.  This will help you see if you are approaching a true neutral.  If your mix is  reddish, add more green.  If greenish, add more red.  If brownish – you don't have true complements.
Study this sample (realizing that you may be seeing the colors differently on your monitor).   Cadmium Red is on top  and Alizarine Crimson is below.  These reds have both been mixed with Pthalo Green, which is an aggressive almost acidic green – oh, I'm really into the gossip today, but it's from the family of Pthalocyanine Pigments, so what can you expect? Anyhow, Alizarine is also cool and aggressive, so together they make an icy gray.  Cadmium Red leans towards  Yellow and with the Pthalo creates a warmer gray.  It's difficult to really judge neutral, but you can't see any   red or green in the mix.  However, if you use a gray in your painting that is made from the colors in your painting, it will seem more harmonious.