Bringing art supplies on an international trip is always a bit of a trick.  When Charlene Kellsey planned her research sabbatical in Arles, France, she also planned a  small and convenient  painting kit.  When she she returned to Boulder and her painting lessons, it was a treat indeed to see what she had accomplished.
Charlene had a tiny 12″ backpack that contained everything and weighed almost nothing.  She had a cushion for sitting on cold hard ground, rocks, or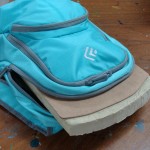 benches. Made from a kneeling pad purchased from a garden store, Charlene cut it to fit the pack perfectly. When I saw this, I had to share the idea with you because taking stools /easels can be a drag and a pain (puns intended).  She also cut a drawing board to the shape of her little pack.  Her camera was small, waterproof, shock and dust proof, and not expensive.  This choice took away much of the worry about cameras (theft, weight / space, and damage).    Reference shots are some of the most valuable things that an artist brings home from the field (wherever the "field" might be).  As you never know when you'll have that amazing moment wherein light and subject come together to make what could be a great painting, it's a real advantage to have a  sturdy light weight camera always with you.
For a vicarious trip to France, check out Charlene's blog  http://researchinfrance.wordpress.com.  She includes traveling tips in with her stories.  For example: "Giverny makes a great day-trip from Paris and you don't need a car: just go the Gare St. Lazare train station, near the Opera Garnier, and find the ticket office for the commuter trains (not the inter-city trains) and get a ticket for Vernon. The trains run about every two hours from about 8:30 a.m. and it takes about 45 minutes to get there. Special buses for Giverny meet every train and take you to the house and garden. There are plenty of places to have a nice lunch and it's worth taking your time and spending the whole day there."
Charlene was in Arles to do academic research on the life of the nuns in a ancient Monastery.  As she worked she started to find various references to an event involving factions of nuns, a decades long fight with the male church establishment, issues of piousness, and even the King.  Curious?  This tale from so many centuries ago is surprisingly contemporary. Charlene will soon tell us a bit about it on her blog at http://researchinfrance.wordpress.com.