PleinAir Magazine's Paint the Adirondacks Invitational – WOW!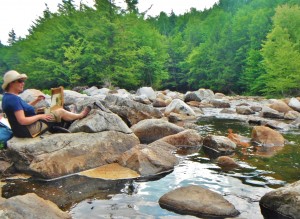 Eric Rhoads and his team pulled off an event so inspirational that I will be motivated by it for months to come.
All the amazing people, paintings, and places… all the rare opportunities going on simultaneously…  How does an artist – accustomed to working alone – stay balanced?
How do you sort yourself out in a situation so stimulating?  How do you sit mid-stream with calm focus while life tumbles and flows all around you?  There will always be "reasons" that you can't do it, but how do you concentrate on the ways that you CAN do it without getting out of balance?
ASSIGNMENT:  Use this photo (or your own) to paint from mid-stream.
As you sit on your imaginary rock, open your heart wide.   You don't have that long  – so let it be  just you and nature.  It doesn't matter now what the other painters are painting.  It doesn't matter that the dorm sheets won't stay on the bed because the mattress is covered in plastic.  Sit down. Forget about the dog that just scrambled onto your rock and shook it's wet hair. Get balanced.   Now is your time!  Paint and be happy.  Keep your balance or you'll end up downstream spitting out water.
In less than six minutes En Plein Air Waterfall Painting shows a start to finish  acrylic painting.  the video was made last year just after returning  from the first Paint the Adirondacks.   Awestruck in the Adirondacks  is a lesson on expanding your comfort zone.
There are plenty of rock studios out there – perhaps you'll join us next year. Go to Publisher's Invitational if you want to start dreaming about it. You can read about the event in the next issue of PleinAir Magazine.  Get on their mailing list!
Waterfall paintings from different areas for your enjoyment:
Sarah Yeoman painted the waterfalls below during the invitational.  Always friendly, fun, and helpful, she arrived fully equipped and even brought two kayaks for the group to use.  Check her out at:  www.sarahyeoman.com