Three paintings in thirty minutes?  What, am I crazy?  Well, maybe, but not about this.

This week in class we did this quick exercise in landscape painting using my photos from Burgundy, France.

 How to do the exercise:
Hold a shuffled stack of photos bottom side up so that you can't see what you are choosing.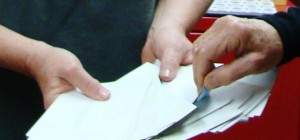 Select three and keep them turned down until the timer is set.

Tape the edges of small pieces of scrap canvas.  Get yourself all set up and ready.

Set a timer for thirty minutes and turn over the photos.
 There is no need to do one painting of each or to include all of the image.  Quickly find three compositions that interest you.
No hemming and hawing.  You are learning to quickly select good compositions.  Go for a strong design.
Break the composition down into three or four massed areas / basic shapes.
Don't fret over color choices and mixing, but try to get the values (lights and darks) of your big shapes to stay together.

Select a minimal number of details that express that you really want and put those in with a small brush.  Leave the other details out. Go for the essence of the landscape.
Let go of perfectionism  – you don't have a choice with the amount of time you have – that's one of the things that makes this exercise so helpful.
It's okay to go back and work on your paintings after the timer goes off as long as you stop at thirty minutes to take a break and study what you have done. It's a thirty minute exercise.  Know that you will stop after that brief amount of time.  Return to your little landscape paintings only if you are inspired.  Connie (top) doesn't paint landscapes, but found the subject so interesting that she continued after the timer went off.
Take the tape off.  This is my favorite moment as the work looks so much better framed by white edges.
You may be a studio painter who likes to spend months on one piece, but you will benefit from these "sprint" paintings.
There's nothing to lose and much to be gained by trying this exercise.  It would really improve your painting fast if you did it every day.  Please share your thoughts in the comments section.