SPRING  has me wrapped around her little finger; I have a bad case of her fever.  How about you?

I thought so.  So let's be like bees and head for the flowers.
Ready?

1. Review the last lesson on  ellipses (circles in perspective)
2. Draw a series of ellipses.  Don't fuss over them. Do this free hand and don't worry about perfection  (note the  irregular ellipses in the example below).  Mark the center of each ellipse  with a smaller ellipse.
3. Make several copies. If you don't have a home copier, trace your ellipses by placing your drawing against a window.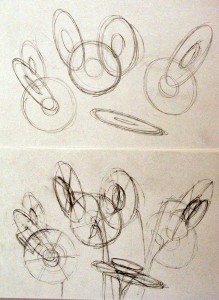 4.  Turn one ellipse into a flower (daisies are easiest) by making a series of loops for petals coming out of the central ellipse.
5. Flowers face forwards and backwards.  They face left and right.  If one ellipse overlaps another, choose which will be in front.  Turn them all into flowers.
6. Represent different flowers facing in different directions on each of your copies.
7. Watch these videos for more ideas: 1. Daffodil painting and the ellipse
2. more about daffodils and ellipses
8. Have fun!
Cat did – below is her colored pencil work sent from Satellite Beach. Florida.